Directly from the Director
Queridos Madres y Padres,
So much has happened since last week that it's hard for me to pinpoint only a few things to talk about in this blog post.  After a full week of Sephardic Adventure Camp, last week started off great with campers and staff alike comfortable in their daily routines.  Last Monday's night activity was a brand spankin' new program called Builder Battles brought by Program Director, Shimra Barnett.  To those of you who, before camp, donated your recyclables including egg cartons, cardboard boxes, and newspapers, this activity is when we put your donations to good use!  Each cabin was paired with another bunk's set of counselors, and each of the seven groups was given a pile of random recyclables.  The task was to create, using nothing but recyclables, tape, and scissors, a life-size structure which could be worked into the theme of either Jerusalem or Seattle.  Though there were many creative representations, including ones which emulated Quest Field (downtown Seattle), the menorah outside of the K'nesset, and a dual structure including both the Kotel and the Gum Wall, the winner was G-4 with their interpretation of the Ferris wheel on the pier.  Unlike any other group, G-4 had an interactive element whereby campers so realistically acted as homeless people outside of the wheel.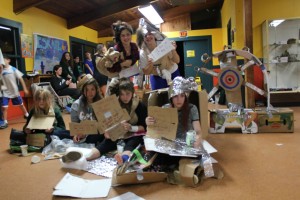 Unusually booming excitement overpowered our camp after a magnificently planned color war breakout took place, which involved our CIT Directors, Ilana Greenberg and David Kintzer, partaking in an elaborate waterfront marriage proposal in front of the whole camp.  Though David's proposal wasn't real, color war sure was and our campers loved it! From nighttime capture the flag to all-camp soccer, the Blue team, which represented Day Two of creation, and the Green Team, which represented Day Three of creation, fought hard for every point in every competition.  One of our first events was called "In It to Win It," which involved all campers and staff members running all over the campsite to find specific items, and the ones who took the longest being forced to give up their seat in the next round.  We of course included water and field sports in our schedule, and they were judged by B-2's Victor Maimon's parents, Joy and David Maimon- who visited and judged for the day.  The final color war opportunity for points was the final presentations, which included a D'var Torah, a mascot, a Ladino song, a banner and a regular song.  Though the scores were neck and neck going in, Green team came out victorious!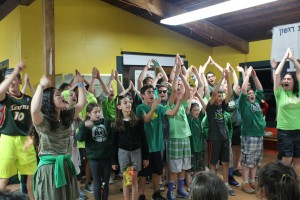 On Friday, to celebrate our country's Independence Day, our amazing CITs planned and ran a huge carnival for all! Activities included bobbing for apples, a photo booth, piñatas, face paint and much, much more.  After the carnival, G-3 counselor Marilyn Gladstein hosted our very own talent show! Joseph, clad in a pink dress and a wig, and Shimon Gamel performed Fancy, G-2 showcased their original "Culoh Dance," after which JoJo Gladstein, Jacob Benezra, and Victor Maimon put on an interpretive dance.
After an incredible Shabbat filled with pizmonim in both English and Ladino, as well as another edition of Chacham Greenberg's Refranez game, 3's, 4's, and CITs had a post-Shabbat basketball game! Israel day was one of the best we've ever had, with a jam-packed, blue and white day.  Our masterful chef Shulamit helped campers make pita and baklava, we held a tekes (ceremony) which included a video by our guest Josh Voss and a daglanut, after which we had a big army training program in the field run by our fabulous CITs, and an Israeli dinner followed by a concert from Nissim Black and a fireworks show by Leon, Uriel, and Eli Cohen.
While the programming has been innovative and fun, and camp has been busy for the past two weeks, what means the most to us is the way our staff and campers have created connections with each other and the relationships we have all built up at camp.  Although we're sad to see camp wrap up, we're looking forward to bunk presentations and camper awards before we head back to Ezra Bessaroth on Tuesday.
Al Vuermos,
Chana Adatto-Shefa (SAC Director 2014)