Day #5 Water and Sky Part 2
Queridos Madres y Padres,
It was a very exciting day for the 1's and 2's because today was their turn to go to Wild Waves! After a picnic lunch on a grassy knoll in the parking lot, they set off for the slightly terrifying yet exciting adventure ahead of them. The 1's and 2's slid down slides, splashed in lazy rivers, and screamed their heads off as they rode all the roller coasters.
Back at camp, the 3's, 4's, and CITs participated in a laid back day filled with sports. The Weiss family arrived, and Rabbi Weiss joined along in an all-camp game of volleyball, while Rabbi Hassan showed off his fancy footwork in a competitive game of soccer (picture below).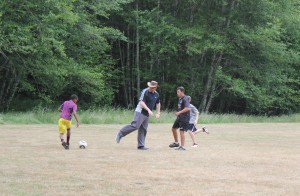 During Shiurim this week Rabbi Chacham Greenberg, Rabbi Hassan, and Rabbi Owen taught the campers three Zemirot: Yom HaShabbat En Kamohu/ There's no other day like shabbat, Ashir La'el, and Azen Amotsi Sovre Dos Panes. They then analyzed the middle baracha in the Amida on Friday night in order to find common themes between it and the zemirot they had learned. As the 3's and 4's reviewed the zemirot with Chacham Greenberg, hands were shooting up into the air begging to be picked on. Everyone was super involved and excited!
When the 1's and 2's finally got back from Wild Waves, Mrs. Hassan and Chacham led shiurim which involved Joha stories, Hebrew riddles, and a scenario about the Rules of Shabbat. Chacham told a story about a man who fainted in his backyard on shabbat. The man's neighbor turned on his hose to spray and revive the man, but when he saw that the man's grass was dead he decided to leave the hose on to water the dead lawn. They then asked the kids to work out the Halachot surrounding this scenario through discussion.
While the younger bunks learned, the older cabins participated in Cake Wars – an activity where they built Cakes in theme of Sephardic Adventure Camp. The winning cake showcased this year's theme, The Seven Days of Creation (picture below). Afterwards, the 3's and 4's enjoyed a bonfire before going off to bed.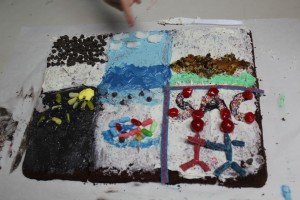 Al vermos (Until next time),
Rachel Benezra Devine (Media/Tech Director)