Last Sephardiah of Shelton – April 23, 2015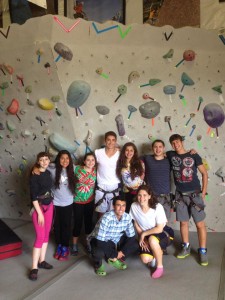 What a wonderful world we live in; nature is beautiful and there are amazing people all around the world. We are surrounded by so many incredible individuals that have built up our community and constantly work towards a better future for the community and the world. We are all so fortunate to have so many people to look up to; we have role models all around us.  But, how do those amazing leaders become who they are?
The goal of the CIT program is to cultivate a healthy environment in order to inspire personal and communal growth. We focus on growth of many levels, as individuals, as community members and as world contributors. Through hands on experience and through thinking and discussing pertinent issues as a group, we strive to build leaders.
One aspect we focused on was team building and to achieve this, we did many activities together. During one activity, we paired up, lifted logs onto our shoulders and hiked through the dense SAC forest. In this activity, we confronted a difficult challenge, but we overcame it! Each group worked together and communicated with one another and carried the logs successfully. Most importantly, we learned that staying positive, no matter how hard the challenge, is key for success.
Here are some reflections from our past CIT's:
This past year at Sephardic adventure camp was an incredible experience. The activities we participated in were so fun and each activity was meant to build us up; it could have been late night conversations with our counselors, teaching us to explain our opinions clearly and think deeper into questions or carrying trees through the forest teaching us to work as a team while having so much fun. Throughout camp, we took care of younger kids, put them to bed and helped lead during clean up time. It didn't really matter what we did, no matter what it was, we were always learning leadership skills. That is why my summer was amazing, not only because my best friends were there, but because I learned skills that I can apply to the rest of my life, and that is truly what camp is for.
-Jeffrey Owen (CIT 2014)
I had an amazing time at camp last summer on the CIT program. I had a lot of fun and I learned a lot of valuable lessons. One experience that I really took away from last summer was when we went on our CIT overnight. On the first day of the overnight, we went hiking. In the moment, it seemed never ending. My muscles were burning with exhaustion, and for a lot of the hike, I just felt like quitting. But step by step we pushed on, and after a few miles we made it to the top. I can not even begin to explain how majestic the view was. I remember looking around and appreciating the beauty that surrounded me. That day I learned a valuable lesson. No matter how hard achieving a goal may seem now, never give up on it because the outcomes can be unbelievable.
– Noa Ollestad (CIT 2014)
This summer, we hope to strengthen our program in many ways. We hope to provide new opportunities that will encourage our CITs to push themselves in new areas. And, of course, we hope to give them the best summer of their lives! Here is a sneak peak into some of our (top secret) summer plans: Ropes Course Challenge, Drive-in Movie Night and Rock Climbing!
We can't wait for the CIT program 2015!