The Last Sephardiah of Shelton – January
Shalom again, my friends! This month, the Last Sephardiah of Shelton writes to you from the Holy Land! That's right, Israel! Before I talk about how absolutely apropos I think it is that I am writing this SAC blog post here, I first want to mention all things Sephardic Adventure Camp that have been going on as of late!
But, even before that, most importantly, here's a HUGE shoutout to Sephardic Adventure Campers Victor Maimon and Shimon Gamel for winning the SAC: In the Know November challenge, earning their bunk a post-Arvit bunk party one night this summer! Good work, guys!!
On December 5th, Ten Sephardic Adventure Campers made us proud as they took the stage at the University of Washington's International Ladino Day to demonstrate their knowledge of Ladino song and their commitment to the preservation of our unique native tongue. We want to extend a huge SAC-style Kadima to each of them, as I'm pretty sure we all wish we could have been up there on stage with them!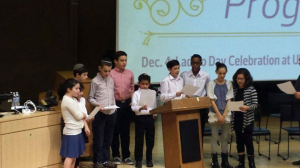 Alongside Congregations Sephardic Bikur Holim and Ezra Bessaroth, SAC hosted the Chanukah edition of the wildly popular Builders Battles! At camp this past summer, program director Shimra Barnett introduced us to the best possible way to use our recyclables like cardboard boxes and egg crates. She split the campers into a number of teams, gave each team a pile of boxes and the like, announced a theme, and told each group to build something with their recyclables which best represented the theme. On December 13th, just before the start of Chanukah, both seasoned and future Sephardic Adventure Campers gathered from far and wide to experience Chanukah-themed Builders Battles! The teams expertly constructed different Chanukah-related cardboard creations as pictured below:
In case you missed them, our Camp Director, Chana Adatto-Shefa, hosted two open houses last week in Seattle. The Kintzer family kindly opened their home to us and our North Seattle friends on January 8th, and the Amiel family welcomed us and our Seward Park-based friends on January 10th! It was wonderful to see and meet everyone who came out, and if you couldn't make it and want further information feel free to email us at office@sephardicadventurecamp.org. We also have an upcoming open house in Vancouver, Canada at 4:45 pm on Sunday, January 18th at the home of Dikla Mizrachi (3970 Laurel St.), and we'd love to talk to future campers or staff members alike! Please drop by, or encourage friends or family members to do so!!
As you can see, we have been keeping busy as we prepare for Sephardic Adventure Camp 2015. Everyone is getting ready and excited, and we hope you are too! I don't know if you have noticed, but something awesome has been trending on Facebook lately… That's right, it's #sephardicselfie! In case you haven't seen it yet, members of our Sephardic Adventure Camp community have been taking selfies and posting them on Facebook with the hashtag #sephardicselfie and tagging 5 friends to do the same within 24 hours! Feel free to join us, and to tag @Sac camp while you're at it so that we can see your awesome selfies! The most creative #sephardicselfie in the next two weeks will be included in next month's blog! (Don't forget to tag @Sac camp, so we see it!)
Now, the moment you've all been waiting for… Israel! Part of our Sephardic Adventure Camp mission statement is to help foster a love for the Jewish people and the State of Israel in our campers and staff, and I guess the question that I ask in response to that is, why? I will admit to you that I recently realized that it is much easier for me to focus on incorporating Israel into our programming at camp than it is to remember why it is that we even do so in the first place. Our programming staff works so hard each year to plan Israel day so that it is meaningful for our campers and counselors, and we of course discuss Israel in our daily sessions or other contexts. We welcome community members and leaders to give sessions about the history of Israel, teach us parts of Israeli culture like cooking or dance, show us what it's like to be in the Israeli army's basic training, or other fun and educational activities. But why is it that Israel is so important to us, and what does it have to do with us at Sephardic Adventure Camp in Shelton, Washington?
I have spent many hours in the past week and a half wandering the streets of Jerusalem, just trying to observe all of the different happenings around me. I've seen the marketplace, the Jerusalem central bus station, the city center, the Old City of Jerusalem, the Kotel (Western Wall), and much more. People say about Israel that it is unlike any other place because the people here are "different." What I have noticed over my trip here is that people have this sense of meaning and purpose, of being a part of something greater than themselves, which I don't usually see in people elsewhere. What I would imagine to be the source of this is likely the focus of so many of our traditions and practices on the land of Israel. Each day, not only is the text of so many of our prayers focused on Israel, but, regardless of where we are geographically in the world we actually stand facing Jerusalem when we pray. We read in so many weekly Torah portions about Hashem's promise of Israel to the Jewish people, and in fact in this week's portion, Perashat Va'eira, Hashem reveals Himself to Moshe and promises to take the nation out of their enslavement in Egypt and bring them to the Land of Israel as He promised to our forefathers. Aside from the more tradition-based reasons for the sense of meaning that I think people feel here, I would venture to say that nationhood is a contributing factor as well. Walking around Jerusalem, or most any part of Israel, what I find most special is the fact that almost everything is centered around Jews. Among other things, the national language is Hebrew, many businesses adhere to the laws of Shabbat and kashrut, and there are often impromptu prayer services in the most bizarre of places like on buses or in the middle of random streets, and all of these things make a Jew feel at home when walking around here.
Aside from the obvious connections like the tradition-based ones which I mentioned before, I think that Sephardic Camp is a lot more like Israel than it seems. Like I said before, people often refer to the feeling that being in Israel ignites as different or indescribable, and what I attributed that to was the sense of meaning. In my experience, the only other place that I feel those exact same feelings of comfort and meaning is at Sephardic Adventure Camp. The environment that develops by way of our focus on our Jewish traditions like prayer, Torah-study, kashrut, and Shabbat is one which is reminiscent of the unique qualities of Israel that so profoundly unites so many different kinds of people and Jews in the borders of this very small country, which is why it so effectively brings our SAC community so closely together. Since Camp provides us with the opportunity to experience what it is like to be in an environment with similar people who have similar values- like Israel, but on a much smaller scale- I can understand why Israel is so important and relevant to us. Even when we are not in Israeli- the only uniquely Jewish country in this world, we still try to emulate those qualities which are unique about it; we look towards Jerusalem, the site of our eventual redemption, as we pray three times each day; and we come together on Israel Day and at many other points throughout camp to learn about the land of our people even if it is all the way from Shelton, WA.
Also, don't forget that today is the last day to sign up for our Early Bird discount! Every camper who is registered by today, January 15th, will receive $125 off of your SAC 2015 tuition! And, make sure to tell your friends and family on the east coast that the first 7 campers to register from East of the Mississippi will pay just $999 for all of SAC 2015!
Sephardic Adventure Campers: In the Know
1. What are the names of 3 siblings who were all campers at SAC 2014?
2. What is the name of the award which a cabin gets for being the cleanest that day?
3. What is the name of the current Camp Bishop caretaker who lives in the house by the Girls' side?
The first three campers to answer the above questions correctly will win extra canteen on the day of his or her choice!
Sephardic Adventure Questions:
Question: Can I stay in contact with my kids while they are at camp?
Answer: In order to help maintain the unique camp environment we do not allow our campers to have cell phones or any wifi-accessible devices. However, you are more than welcome to write letters or send care packages to your kids, and they are encouraged to do the same! You can even send an email to our office email address, and we'll print it and give it directly to your camper!
Question: Will my camper be able to hike at camp?
Answer: Not only is there a daily chug (activity) dedicated to hiking should your camper want to hike each day, but our very own prolific nature-man Quinn Rose leads a nature hike each Friday morning– rain or shine! He teaches everyone about different plants, animal tracks, and other important survival skills needed for the woods.
January's Ladino Saying: "No ay mijor Madre, ke la ke te paryo" — "There's no better mother than the one who gave birth to you."
Al vuermos,
Julia Owen