The Last Sephardiah of Shelton!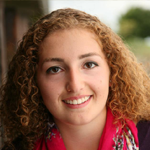 My name is Julia Owen, and I would like to welcome you all to the first edition of The Last Sephardiah of Shelton! For those of you who haven't been so lucky to send some good 'ole fashioned snail-mail in the way of Mason County's 98584 zip code (and no, I did not have to google that!), Sephardic Adventure Camp is most frequently held at the beautiful YMCA Camp Bishop in Shelton, WA, thus the blog title.  But, before I get to the good stuff- or, as we say, the gomo (Ladino word for "filling," most commonly used in reference to the potato/cheese filling of a delicious boreka likely prepared by the lovely Ladies Auxiliary of either Congregation Ezra Bessaroth or Sephardic Bikur Holim) I'd like to try to give you all a little insight into my personal Sephardic Adventure Camp history.
It all started when my grandfather, Ruben Owen, was a Director at Camp for a few years in the late '70s.  My Dad, Rabbi Benjamin Owen, and Uncle, Jacob Owen, were then campers and staff members for over a decade, until my Dad took his turn as Director for three years in the '90s.  Don't worry, because after a year of directing my Dad met my Mom, Jodilyn Owen, who was the Art Director in '93 and '94, CIT Director in '99, and is currently serving her fourth year on the Board of Directors.  Finally, just when my Dad snuck back to hang around camp as an on-site Rabbi, I was lucky enough to become a camper myself in 2006 (along with my brothers, Sam and Jeffrey).  After having the privilege of being a G-2 counselor for two years, I was the Girls Head Counselor for 2013 and 2014.  And here we are, almost half a century after the Owen family first got involved in Sephardic Adventure Camp, and I have been blessed by our fabulous Director, Chana Adatto-Shefa, with the opportunity to author this blog!
Now that you know a little about me, I think it's time to talk a little about why we're all here.  First, why I'm here… For those of you who have heard me talk about Sephardic Adventure Camp, you know that it's my absolute favorite thing to discuss at any time of any day (so much so that most of my friends from other places could ace any SAC quiz), and that it literally causes me to jump up and down from excitement almost daily.  For those of you who haven't had this opportunity, hopefully you'll start to get a sense of that as you continue reading this blog.  But, either way, just know that it is my endless enthusiasm for Sephardic Adventure Camp that has brought me here.  Now, why you're here… Well, hopefully it's because you love our dear camp as much as I do either because you went there or you have sent a child there, and you're looking for a way to keep the ruach (spirit) alive for the winter months.  In case it's not, and you're here because you want to know more about SAC, you have landed in the right place!  Our journey together to Sephardic Adventure Camp 2015 has officially begun, and I'm so happy that you're coming along with me.
This past year at camp we celebrated each day by immersing ourselves in our theme of Creation.  We spent two or three camp days learning about each creation day, and utilized a variety of learning modalities along the way. Counselors tried on their thespian skills, acting out skits to present each creation day to the campers.  Programs were carefully designed to line up with whichever creation day we were focused on.  Gorgeous, detailed banners were crafted by Art Director, Jake Aboulafia, which hung Harry Potter style from the rafters in the Mess Hall, and campers were often found discussing ideas about Creation with their counselors or our amazing Camp Rabbis: Hacham Greenberg, Rabbi Owen, Rabbi Hassan, and Rabbi Meyers.  Perhaps it is our deep exploration of Creation which makes it feel so natural to me that this first blog is to be released immediately after the holiday of Simchat Torah, which celebrates the completion and new beginning of the Torah cycle, on which we read Perashat Bereshit- including the story of Creation.  In that spirit, if you find yourself anywhere near a Sephardic Adventure Camper sometime soon I urge you to approach him or her for a full debriefing on Creation through the eyes of SAC.  And while you're there, mention the "Sephardic Adventure Campers: In the Know" section of the blog (which can be found below) because three campers to answer all the questions correctly will win a prize and get a shout-out in the next month's blog! This month's prize is an extra trip to the canteen on your day of choice!
Thank you so much for checking out the first edition of The Last Sephardiah of Shelton!  Each post will also include a section called, "Sephardic Adventure Questions," which will answer YOUR questions about any SAC-related issues! For information on how to send in a question, please see below.  Finally, just as we have a Ladino Word (or phrase) of the Day at camp, look out for our Ladino Saying of the Month!
Sephardic Adventure Campers: In the Know
What is the name of the lake that Sephardic Adventure Campers swim in each day?
At camp, on which day of Creation did we go to Wild Waves, and why?
What was Hacham Greenberg's Shabbat afternoon game called, and what did we do?
Sephardic Adventure Questions
Question: Am I allowed to go to Sephardic Adventure Camp if I'm Ashkenazic?
Answer: Absolutely! What makes our camp Sephardic is the fact that we follow the Seattle Sephardic tradition for things like tefilah (daily prayers) and birkat hamazon (grace after meals).  We also like to learn and use Ladino, which is the Judeo-Spanish language that our great-grandparents from Turkey and Rhodes used to speak.  You'll probably walk away from camp having learned a few things about Sephardic traditions, but so will all the Sephardic kids!
Question: Will I be able to do different kinds of activities when I'm at Camp?
Answer: Not only will you get to do many different kinds of activities, but you'll get to pick some of the things you do each day! At SAC, every single day, each camper has two bunk activities: one only with their own bunkmates and counselors, and one with another bunk as well- and three (that's right, three!) chugim- individually chosen activities with campers who are interested in the same activity as you- not to mention the all-camp night activity! Trust me, my friend, you will have plenty of activity options when you come to SAC.
October's Ladino Saying (this one is a personal favorite): "Si tu sos ajo, yo so piedra ke te majo" – "If you are a strong garlic, I am a stone that can smash you."
I hope you all had a Moadim Le'simcha (happy holiday), and I'm looking forward to getting together again on November 15th!
Al vuermos (until next time),
Julia Owen